The Eyebrow Mistakes You're Making
Learn how to fix them with eyebrow makeup and these expert tricks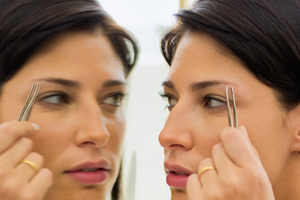 Eyebrows can make or break your entire look, according to practically every makeup artist and brow expert we've ever talked to. They can make your eyes look droopy when they're not, or make you look angry when, in fact, you're not. This is why it's essential to be very cautious when grooming your own brows. There is a very fine line between a perfectly shaped brow and an overly tweezed brow. If you think about it, your brows (even when big and bushy) have very little real estate on your face. One or two plucks too many can leave you with a pretty scary shape.
Here, we share the common mistakes most women make when it comes to grooming their own eyebrows. If you're guilty of any of them, don't freak out (hey, even celebrities slip up in the eyebrow department, as proven in these
celebrity photos
). With the help of brow guru Kristie Streicher, who operates out of the Warren Tricomi Salon in New York City and Los Angeles, you can work to correct them in no time.
Or if you're too nervous to take matters into your own hands, see a brow expert who can help you assess what you need to do in order to get the most flattering brow shape for you. Then you can simply maintain the shape they help you create at home, with these tips.
By Kristen Oldham Giordani